Trusted Shopfront Installations, Sydney



Aluminium Shopfronts
Whilst frameless glass shopfronts are popular,
fully framed shopfronts are still a practical
and visually pleasing entry to your place of
business. We can manufacture, supply and
install to your exact requirements.
- Fixed Panels
- Auto ready doors
- Sliding doors
- Hoper windows
- Hinged doors
- Servery windows
Aluminium Bi-fold/Stacking Doors
Aluminium bi-fold or stacking doors are an
excellent way to completely open up your
space to the outside. Perfect for restaurants
or commercial premises that require full
access. As the doors are top hung, a variety of
floor guides are available to ensure that the
installation meets your entry requirements.
- Full doors
- Half servery doors
- Working in unison
- Independent doors
- Fold against wall
- Stack in cupboard
Aluminium Internal installations
Do you have a new office fit-out that requires
wall divisions? Or is noise escaping from your
premises that requires control via an airlock?
We can manufacture and install a variety of
internal aluminium installations.
- Dividing wall
- Air locks
- Sliding doors
- Hinged doors
- Auto ready doors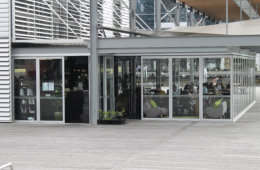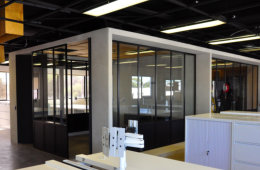 Frameless Shopfronts
Frameless shopfronts are a modern and
beautiful way to ensure an unobstructed view
into your premises.
With today's modern production capabilities,
the installations just keep getting bigger and
better.
Frameless Bi-fold/Stacking Doors
For installations that are not subject to
weather conditions and require an
unobstructed view, frameless bi-fold doors are
the perfect solution.
Frameless Internal installations
For a unified and modern office environment
that at the same time provides walls for
division of space, a frameless installation is
the perfect choice.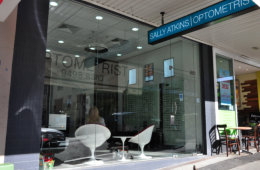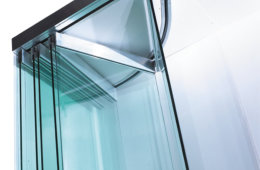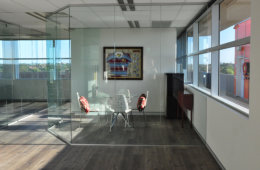 Installations
See our great range of installations below. We do, however, understand that each shopfront solution is unique, so if your requirements do not fall under one
of these categories
please contact
us to discuss and learn more about what Sydney Shopfronts can do for your business.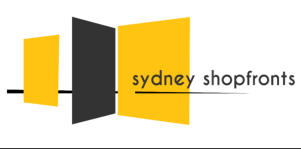 (02) 9555 5319
(02) 9516 3036